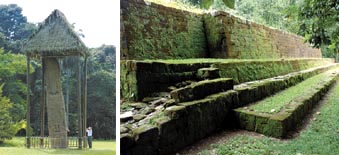 © INGUAT photographic stock
Description: This Archaeological Park forms part of the cultural heritage of Guatemala and is one of the most famous tourist destinations. Quiriguá is situated in the Motagua river valley, on the slope of the Sierra de Las Minas Biosphere Reserve and is surrounded by luscious banana plantations with an easy access to visitors. The Park is well known due to the artistry of the Monolith from the Mayan Classic Period. It is said that the Mayans from Quiriguá had sort of a rivalry with the city of Copán, Honduras.

Access: Take the CA-9 Atlantic Highway to Puerto Barrios and drive to the community called Los Amates; as you reach this community you will find on your right the entrance to the Park, where you must follow a dirt road until you reach the Archeological Park.

Services: Full access to the Mayan monuments.

Tourist facilities: Pedestrian trails inside the Archaeological Park for birdwatching.

Fees and schedule: US$ 0.50 per person for Guatemalan residents and US$4 per person for foreigners. It is open daily from 7:00 am to 4:00 pm.

Other features: You can visit the famous Quiriguá Monolith. The Park is en route to other destinations in the Caribbean.

Contact: General Headquarters of the Natural and Cultural Patrimony, Ministry of Culture (Dirección General de Patrimonio Cultural y Natural– DGPCN Ministerio de Cultura). Telephone: (502) 2251 6224 http://www.mcd.gob.gt