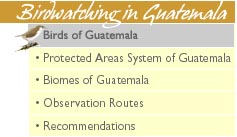 Compared to other neotropical countries, Guatemala doesn't seem to call your attention to the number of recorded birds in its territory. However, different biogeographical aspects occur in this portion of the planet to make up one of the most interesting bird faunas in the continent. To understand the avifauna of Guatemala and really enjoy it, one has to go back in history when the lands of Central America were just emerging, due to the volcanic activity and the movements of the tectonic plates that created a bridge between the territories of North and South America. As these geological phenomena were happening, some elements of flora and fauna (including birds) had the opportunity to move, and colonized these new lands. For this reason, the bird fauna of Guatemala is a mixture of influences from the South and North; there are group families representative of the Nearctic (North America) like Crows (Corvidae) and New World Warblers (Parulidae), and families from South America such as Hummingbirds (Trochilidae) and Toucans (Ramphastidae), to name just a few.
It is estimated that Guatemala is home to nearly 720 bird species, including both resident and migratory species, although the exact number of species varies according to different researchers, as one might expect. For example Dallies (2006) reports 695 species, while Eisermann and Avendaño (2006) report 724 species including a globally extinct species and three regionally extinct birds. The region with the richest avifauna is the Atlantic slope, where it is assumed that the South American influence of biodiversity culminates, while the avifauna in the highlands have more affinity with the birds of North America.
According to Stattersfield et al. (1999), there are three centers of bird endemism in Guatemala, those are: 1) the Highlands of Central America, with twenty regional endemic species exclusive to this zone, 2) the North Pacific slope of Central America with three species, and 3) the Caribbean slope, with one species identified in Guatemala. Additionally, Eisermann and Avendaño (2006) reported twenty-two regional endemic species for the Highlands of Central America, three species in the North Pacific slope of Central America, and they include another endemic zone: the Yucatan Peninsula with nine endemic species.

| Ornithology in Guatemala
The history of ornithology in Guatemala dates back to some 200 years ago, when explorers like Osbert Salvin visited these lands. Salvin participated in four expeditions to Guatemala, collecting specimens from 1857 to 1874 (Land 1970). His work was published afterwards with Frederick Ducane Godman's, producing the greater publication of its time for the region: Biologia Centrali-Americana (Salvin and Godman 1918). In the twentieth century, other scientists visited Guatemala collecting bird species, such as N. Dearbon, A. P. Smith, W. Anthony (Land 1970), but one of the most important works was done at the beginning of the twentieth century by Ludlow Griscom, who wrote an important publication regarding the distribution of bird life in Guatemala (Griscom 1932).
Even though other scientists visited the area after Griscom´s work, another important episode in Guatemalan ornithology was done by Frank B. Smithe (with collaboration of Raymond Paynter), studying the birds in Petén specifically in the area of Tikal National Park (Smithe 1966). Guatemalan naturalist Jorge Ibarra collaborated with these expeditions (Land 1970) and also contributed to increase scientific knowledge of avifauna in the country. Some time later and after several visits to Guatemala studying birds, American ornithologist Hugh Land started working in the first (and still until today the only one) Guatemalan bird field guide book; unfortunately Land died before he saw his work published, but it was published some time after his suddenly dead (Land 1970).
At the end of the twentieth century other ornithologists like Chandler Robbins start working here; Robbins visited Guatemala on several occasions, studying migratory and resident bird species, and he established the first bird monitoring station in what is known today as the Cerro San Gil Protected Reserve in the department of Izabal. All these ornithologists and naturalists are legends in Guatemala, opening the doors to all new generations interested in ornithology, as well as those people working arduously for its conservation and the promotion of birdwatching activities.
Names of birds in this guide follow the taxonomy proposed by the American Ornithologist´s Union-AOU (www.aou.org/checklist/index); since most of the bird names haven´t been standardized in Spanish, only English and Latin names were used. It is important to mention that until today there are only two published checklists that list the official reported birds in the country (Dallies 2006, Eisermann and Avendaño 2007).