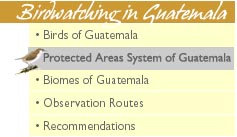 The Guatemalan Protected Area System (SIGAP, acronym in spanish), includes all the protected areas of the country and institutions involved in their administration; private nature reserves and co – administrators of some of them. The SIGAP was created to promote conservation, rehabilitation and protection of the biological diversity; as well as the country´s natural resources. This System covers about 32% of the national territory and integrates more than 260 protected areas classified in different management categories. Private Nature Reserves, Regional Municipal Parks, Biotopes and National Parks are some of the different management categories that are classified in the SIGAP. As expected, by maintaining the natural features almost intact, a considerable number of these protected areas are ideal sites for birding and enjoying biodiversity.

The SIGAP works as a refuge for migratory and resident birds. Within protected areas, birds find the ideal conditions for breeding and feeding, this makes them key sites for birding.
Likewise, the Guatemalan Protected Area System provides an added value to the visitor experience by allowing him to undergo a mix of nature, culture and archeology; allowing always a quality birding experience.

Currently the SIGAP is administered by the National Council of Protected Areas (CONAP, acronym in spanish) institution that seeks to foster and promote the conservation and enhancement of Guatemala´s nature heritage, trough in situ conservation of the biological diversity and an optimal performance of essential ecological processes in areas legally designed for their protection (protected areas).